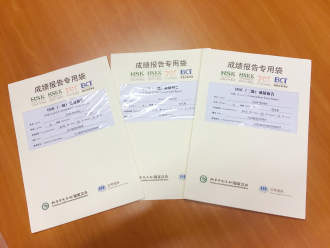 Registration and payment:
1. Online registration at www.chinesetest.cn website. (Mock test are available, too!)
Fill in your personal information for registration, upload an ID photo, and submit when it is confirmed completely and correctly. We would like to raise your attention to the fact that selfies, party and FB profile photos are not accepted by any means as ID photo! Please note that applications with such photos are automatically turned down, even if test fee payment is already done. In this case SZTE Confucius Institute will not be eligible for any refund of the test fee.
You have to apply and register separately for written and oral exams!
2. Once online registration is complete, you have to come to the office of Confucius Institute at University of Szeged to ask for a test fee check.
The check must be paid at the post office, and bank transfer is not accepted by any means! Written and oral exam fees must be paid separately.
3. Show your proof of payment check receipt at the Secretariat of Confucius Institute at University of Szeged until 19 October 2018 (Friday) 1 p.m.!
Language exam fees:
| | |
| --- | --- |
| YCT Written test levels | Test Fee (HUF) |
| YCT 1. | 3000 |
| YCT 2. | 3000 |
| YCT 3. | 3000 |
| YCT 4. | 3000 |
Application for the November language exam is accepted only if the online registration and payment is completed before 21 October 2018!
The "admission ticket" needed for the exam will be ready 10 days before the exam. You can print out your admission ticket from your user account at www.chinesetest.cn website, or you can ask at the staff's help at SZTE Confucius Institute personally.
All necessary information about the exam's time, place and documents needed for the exam will be provided for the exam takers a week before the exam via e-mail.
Further information:
* Exam takers can receive their certificates approximately two months later at SZTE Confucius Institute.
* At the exam you must bring your: ID card or passport as well as 2B pencil!
Brief introduction of the YCT Language Exam (Youth Chinese Test)
For children under the age of 14 we recommend Young Learners' Chinese Test (YCT). The structure and the vocabulary of the exam are specially developed to correspond to primary school students' skills. The next exam date is 16 November 2013. Details are going to be announced here on our website soon.
YCT language exam consists of two independent parts: written and oral. The levels of the written part range from 1 to 4 while the oral part comprises elementary and intermediate levels.
In contrast with HSK and HSKK, YCT language exams are not accredited and accepted officially in Hungary. In other means it cannot be recognized as an official language certificate.