Firstly, on July 18 2017, ten high school students, who are passionate about Chinese and Chinese culture, under the guidance of volunteer teacher Jiewen Qiu, went to Beijing, capital city of China. Besides participating in the opening ceremony, students also had the opportunity to take part in different kind of rich and colorful cultural activities, visited the most famous attractions in Beijing, and even tasted authentic Chinese food. In this historic and cultural-rich city, the campers visited the solemn and mighty palace: the Forbiden city, climbed up to the world wonder: the Great Wall, wandered in the quite and beautiful traditional Chinese garden: the Summer Palace, also went shopping in the bustling Wangfujing Street. Authentic Beijing roast duck, unique old Beijing hot pot, all kinds of Chinese food all stimulate the taste buds.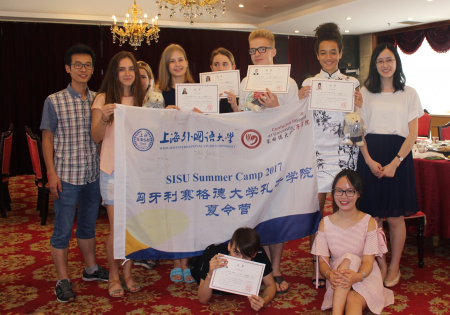 On July 20th 2017, students took the high-speed railway from Beijing to their next stop: Shanghai. During the following 8 days, the participants went to the International Cultural Exchange Academy every morning to study Chinese language and culture with students from all over the world. In the afternoon and weekends, everyone learnt tai chi, Chinese knot, experienced tea art, or went out of the campus, to the Bund, Yuyuan Garden and other famous attractions in Shanghai to experience the Shanghai style, to the museum to understand the local culture, to Nanjing Road to feel the shopping pleasure in the international metropolis.
During the summer camp, they learned Chinese knowledge both inside and outside the classroom. The combination of lectures and cultural practices is very popular with students, which allows them to experience and understand the essence of Chinese culture, inspired their interest in Chinese traditional culture and deepened their understanding of Chinese culture.
The two-week long summer camp quickly came to an end. The students said that although the study time was short, but it is rewarding. They met friends from all over the world, improved the level of Chinese, felt the hospitality of the Chinese people, the convenience of public facilities and the development of science and technology. This experience makes them more like China and they said after returning Szeged, they will learn Chinese harder for the opportunity to study in China.