He is a professional traveller, who colud visit such excotic places, like China. He gave polite-, study-,diligence focus upbringing from his parents, and he looks like similar to the Chinese people in this attributes.

His first route to China was in 1990, after that he took part in other 7 expeditions. At the first time, was make a video, which was very popular amoung the fans of earlier Hungarian Television. On his trips, he met with shockingly extreme conditions, trackless paths, with varied terrains. You have to prepare for these trips. Mr Makra has 40 kg personal packege for one route.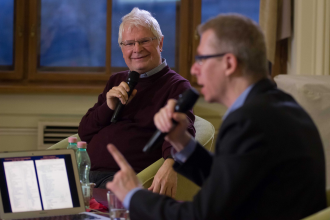 He had an adventurer journey f.e.: to Urumqi, where he had arrived with train after 72 hours long travelling from Beijing. The desert missions were very taugh, he had to be well-prepared, to obtain the licences has been particularly slow and difficult. Unfortunately, he has to be faced with consequences of desertification like: lakes disappear in a decade or two.
The desert caravanserais contributed the basic life supports, such as food, access to water, accommodation. Against the desertification they often taken up the fight with Canadian hybrid poplar, which grab the desert dust and reduce the expansion of the desert. However, everything has a price, the pollen content of the air increases and the smog becomes more durable, which can shorten the life with 6-7 years, what the labor market is also anticipates.
Mr Makra would like to shown the everyday life, culinary side and natural wonder of the rural China. Our guests have seen a very colorful and high-quality lecture. Thank you for your participating.