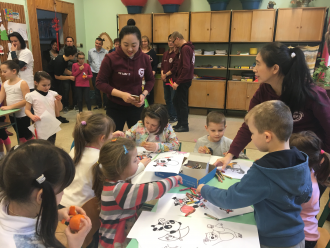 During the opening day, the two directors expressed, that the Institute would like to provide a platform for students to learn Chinese and explore the Chinese culture. It is welcomed that parents can bring their children to the classroom to try the Chinese activities, like shuttlecock, puzzle, painting pandas. Confucius Institute welcomes every student interested in Chinese. Subsequently, one of students from the Confucius Institute named Eszter Farkas, sang a song (title: XiaoXingYun) for everyone, which is continued with gaine applause.
With the help of the teachers from Bartók Music Primary School, the staff have decorated the classroom with lanterns and Chinese knots, which were full of the atmosphere of Spring Festival. The classroom was divided into five activity areas, which were shuttlecock, coloring, puzzle, point reading and songs video, the teachers were orderly responsible for each area. There was an endless stream of students in the classroom.
By participating in this opening day, the reputation of the Confucius Institute at University of Szeged has already improved, moreover, Chinese culture gained more and more popularity.