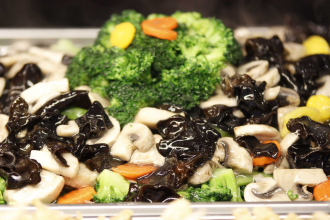 Fortunately, the event, which introduced Chinese culinary and food culture, turned out to be a great success as more than fifty people showed up in the restaurant. Szeged local government officials, such as the former Mayor of Szeged, also visited the restaurant and participated in the event.
At the very beginning of the occasion, the owner of WOK N'GO Chinese restaurant chain Mr. Cao Zhengyin, and his wife, Mrs. Zhao Peizhen warmly welcomed the guests present, and extended their hope that they would enjoy and most importantly love the taste of Chinese food. Before the long awaited culinary experience, Mr. Mohr Richard, director of SZTE Confucius Institute, who was very thankful for everyone's presence, welcomed all the guests, and briefly introduced the main characteristics of Chinese cuisine. Last but not least, he presented all the dishes especially prepared for this special occasion such as: egg fried rice, black pepper beef, sweet and sour pork ribs, home-style tofu, white fungus soup and so many other delicious dishes. Then Mr. Zhang Lin, director of SZTE Confucius Institute ended the welcome speech with the following sentence "Tasting Chinese delicious food, enjoying a better life", and as a closure, he highlighted the significance of Sino-Hungarian friendship.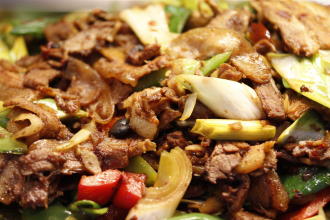 During the event, with the help of Chinese teachers, our guests could learn how to use chopsticks in a proper way, and thanks to the Institute's self-made brochure, people could not only get familiar with this world famous cuisine, but also could learn more interesting facts about Chinese culture, while others were absorbed in Chinese culinary customs and habits.

Due to the warm and pleasant atmosphere of the restaurant, the food tasting at Wok N' Go turned out to be a great success as everyone had had the chance not only to taste different kind of very delicious and tasty dishes, but also could learn more about Chinese gastronomy and culture. The event was so popular that SZTE Confucius Institute has already decided to organize similar occasions in the near future in Szeged.