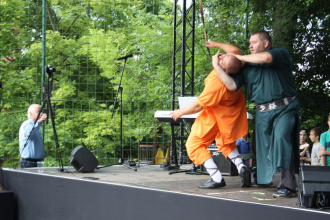 Our teachers were waiting those interested behind the stand between 2 and 6 pm, with games and Chinese food. Students had the chance to practice the proper use of chopsticks through an exciting game, where they had to put ping-pong balls from one metal bowl to another with the chopsticks. Chinese shuttlecock also attracted great interest: children were crowding around our teachers with great excitement, who were enthusiastically teaching introducing them to the game. The participants also got a taste of Chinese cuisine: we were offering sweet sesame cookies, which the more adventurous tried confidently, whereas those who were more cautious, appeared slightly suspicious at first.
Our Institute also provided a spectatular show: the Chinese lion dance with music was accompanied by the crowd of participants. However, the greatest excitement was caused by the professional kung-fu performers invited by the Intstitute: students and parents alike watched thethe sleek movements, and happily applauded at the end of the performance.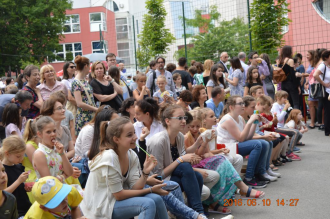 Even though the weather suddenly turned gloomy, it did not affect the mood of the participants: they found shelter from the sudden shower under the tent of the Institute, where they continued the games and chatted with our teachers.
Of course, the main profile of the Institute, Chinese language education was also mentioned. The interested students and parents had the chance to ask questions about the possibilities of studying Chinese offered by the Confucius institute, which was organised as an extra-curricular Chinese language class at Lauder in the past academic year. The participants could ask questions from our native Chinese teachers, what is more, they could also chat to those students who have been studying the Chinese language for years, have been to China several times, yet had their first Chinese classes at the Confucius Institute.
Overall, we hope the spectacular and interesting events left a deep impression in the participants, bringing China closer to everyone. We also hope to have proved that Chinese language learning is a precious experience, and the Confucius Institute is happy to provide the opportunity for it.