"Szabadság, szerelem! E kettő kell nekem" – recited HE. Xiao Qian Petőfi's famous poem in Hungarian. With this he aimed to prove that Chinese people are indeed familiar with Hungarian culture.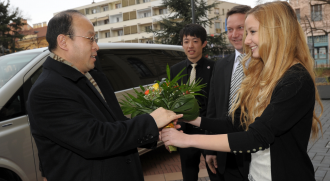 Relations of two nationalities
Not only the poet of the 1848-49 Revolution but also Liszt Ferenc is often included in Chinese books. The Ambassador added that some believe in the affinity of the two nationalities therefore Chinese usually treat Hungarians with special friendliness. The cooperation of the two countries have been smooth since diplomatic contact has started, China is the most important non-European business partner of Hungary while Hungary, due to its favourable geographic location, is a crucial strategic pillar for China in Middle-Eastern Europe. The Ambassador also mentioned that language is the most important means of building relationships and cooperation. "To plant a forest, you need a decade; for a talented generation you need a century" – His Excellency quoted a Chinese saying.
According to his speech, István Ujhelyi, Deputy Speaker of the Hungarian National Assembly and President of the Advisory Board of the Confucius Institute at the University of Szeged often boasts with the Szeged Institute during his travels both inland and abroad, especially in China. He also expressed his hopes that with the help of the Institute hundreds of people will start learning Chinese and simultaneously, hundreds of Chinese exchange students will arrive at the University of Szeged.

More than 300 students are studying Chinese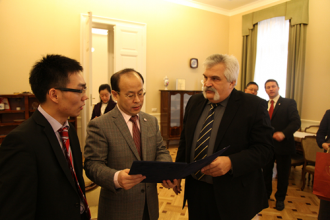 Director Lívia Szentmártoni introduced the establishment and the objectives of the Institute. As she emphasized, spreading Chinese language and culture in Szeged and the Southern Great Plain Region are the main profiles of the Institute officially opened in October 2012.

Until last December, around 15 cultural programs and 15 language courses were organized by the Confucius Institute at the University of Szeged; they started Chinese language education at the university and launched free introductory language courses for those interested. Cultural programs welcomed altogether more than 500 participants. In 2013 numbers of cultural and educational programs are going to exceed 30 and 50, respectively. Concerning the former category, two events are outstanding: the Sziget Festival in August and the Mid-Autumn Festival in early October being the most important cultural program of Confucius Institutes worldwide in 2013. The Director also highlighted that Chinese language teaching is going to start next September at the University of Pécs and at the Károli Gáspár University of the Reformed Church in Hungary and that they are planning the contact those 5 high schools and 3 universities, which have already expressed their desires to have Chinese courses.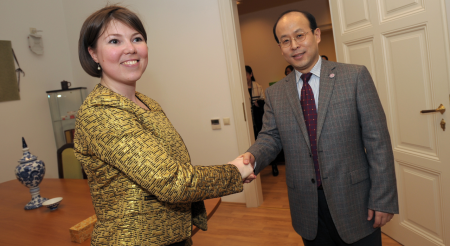 Az SZTE Konfuciusz Intézetbe látogatott Xiao Qian új kínai nagykövet - Galéria
The Chinese "window"
He Min, teacher of the Confucius Institute at the University of Szeged elaborated on the educational and cultural programs of the institute. Among other things, she explained that Chinese lessons are not exclusively for university students but they also teach in high schools and primary schools as well and in order to make teaching more effective, teachers have already started to learn Hungarian. As she described, their Confucius Institute is not merely a language teaching institution but also serves as a "cultural-communicational window" because of their participation in university events and programs of the city of Szeged.
More than kung-fu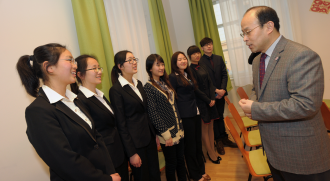 Representing the students of the Confucius Institute, university student Ákos Uhrin greeted all guests in his Chinese-Hungarian bilingual speech. In his experience, Hungarian youngsters usually associate China with kung-fu, the Great Wall or Jackie Chan but those, who are more interested, will surely be impressed by Chinese history, calligraphy, art or the famous Beijing Opera. He also added that learning Chinese provides great opportunities e.g. as a student of economics and business it is a great advantage to read original sources about China and the way China deals with global problems is also an interesting topic.

After the speeches students of the Madách Bilingual Primary School performed a Chinese and a Hungarian folk song.
On 25 March, HE. Xiao Qian attended a meeting with Gábor Szabó, Rector of the University of Szeged and visited the Study and Information Centre and the Klebelsberg Library before meeting László Botka, Mayor of Szeged.