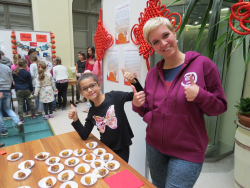 At 4 o'clock on the afternoon of September 25th (local time), the atrium of the Rector's Building of the University of Szeged was painted red literally, with Chinese lanterns and knots. Present at the event were Dr. WANG Lei and Mr. MOHR Richard, the two directors of SZTE CI, together with the staff and faculty. The traditional Mid-Autumn Festival attracted many local citizens, among whom were energetic young people, hale and hearty retirees and lovely school kids.
At the opening ceremony, the Chinese host JIN Ye and her Hungarian counterpart NYÁRI Fanni first introduced the origin of the Mid-Autumn Festival and the process of the event. Then, Dr. WANG Lei and Mr. MOHR Richard, the two directors delivered speeches of welcome to the guests.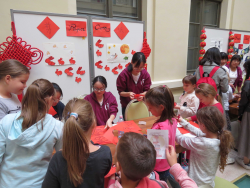 In the following Chinese cultural experience activities, people from all walks of life in Szeged gathered in front of each booth to experience cultural interactions, including 中秋节 (the "Mid-Autumn Festival") Chinese character writing, jade rabbit paper-cutting, Hanfu and Tang costumes photography, picking up pingpang balls with chopsticks, shuttlecock kicking and Chinese knowledge quiz, as well as the sampling of the traditional Mid-Autumn food - moon cakes. The event lasted for two hours, but people were still lingering and unwilling to leave, and they asked about the next cultural event. Task-based activities not only aroused the enthusiasm of visitors to experience Chinese cultural activities, but also stimulated their interest in learning Chinese.
In addition, the SZTE faculty also carried out a series of the Mid-Autumn Festival cultural activities in other teaching sites and schools, including the event at the Central European University in Budapest, featuring moon cake sampling and experiencing Chinese culture, making the promotion of Chinese culture more procedural and long-lasting.
After years of unremitting efforts, the Confucius Institute at the University of Szeged has gradually come up with a series of thematic Chinese cultural activities, such as the Lantern Festival, the Chinese Spring Festival, the Panda Festival, the local summer camp, the Mid-Autumn Festival, the Confucius Institute Day. As a result, the influence of both Chinese culture and the Confucius Institute have been noticeably increased.

(Report: SUN Lina, Photography: LI Qianxun, TAO Shengfei)