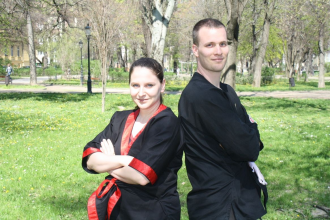 In this occasion, we can insight to an extraordinary talent's relations and experiences with China.
Eszter Kovács has 9 language exams, including Chinese as well. She lived in China for many years, where she met with kung-fu. Nowadays she usurps the highest master grade title in female kung-fu, in Eastern Europe. With his husband, they have a kung-fu school in Szeged.
Venue: Rector's Office, Ceremonial hall
Time: 15 June 2016 (Wednesday) 5.00 p.m.
Everyone is warmly welcomed!