Tianjin is one of the 4 provincial-status cities of East China, one of the most developed economic centres of the country. The businessmen delegation headed by Li Fuming, director of State-owned Assets Supervision and Administration Commission of SASAC of Tianjin Municipal People's Government, visited Hungary for the first time. Members of the delegation took part in an economic forum organized in the Parliament in Budapest on 3 July, then, on 4 July, they introduced themselves at the University of Szeged searching for business partners – Szeged was their only destination besides Budapest. The unique opportunity aroused the interest of local Hungarian companies, who also represented themselves in a large number during the meeting.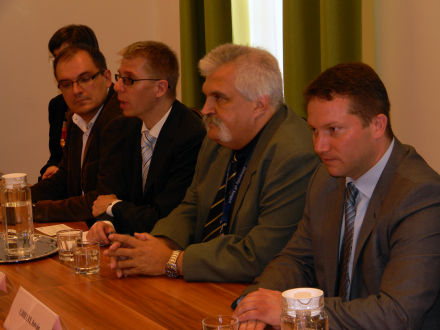 Leaders of the businessmen delegation were welcomed by Szabó Gábor, Rector of the University of Szeged; Ujhelyi István, Deputy Speaker of the Hungarian National Assembly and at the same time President of the Confucius Institute at the University of Szeged; Dömötör Máté, General Secretary of the University of Szeged; Szentmártoni Lívia and Zhang Xuemei, Directors of the Confucius Institute at the University of Szeged. Together with the University, Mr. Ujhelyi was the main patron of the event, the Chinese delegation's visit to Hungary was initiated by his invitation.
The University of Szeged Study and Information Centre hosted the Chinese (Tianjin) – Hungarian Business Forum, where the Hungarian and Chinese businessmen's round table discussions took place. Varró András, Vice-Rector for Science, Research Development and Innovation of the University of Szeged gave a welcoming speech and presented the successful R&D projects of the university.

Mr. Ujhelyi highlighted in his speech at the university that the time of changing business cards is too short to start business cooperation, but it is essential for Chinese partners to get to know Hungarian opportunities and the city of Szeged. He also emphasized that the Chinese businessmen attending the event in Szeged are the leaders of the companies producing 50% of the GDP of the 13-million city of Tianjin.
Following the official program, the delegation participated in a traditional Hungarian horse show and concluded the event with a Hungarian gala dinner.