At the reception, Chairman Song Linchu of the Songjiang District Political Consultative Conference introduced the purpose of the trip and said that as a strategic partner of Shanghai International Studies University, Songjiang District of Shanghai will continue to support the internationalization of Shanghai International Studies University and SZTE CI's goal of improving quality and efficiency in the new developmental stage. He also expressed his hope for closer ties between China and Hungary, deeper cooperation between the University of Szeged and Shanghai International Studies University, as well as exchanges between Shanghai and the Prefecture of Csongrád, Hungary.

Morh Richard, the Hungarian Director of SZTE CI, gave a brief introduction to the Confucius Institute's work guidelines and the achievements made in the academic year 2017-2018. In the past year, the Confucius Institute at the University of University has focused on improving the quality of Chinese teaching. By vigorously promoting the HSK and YCT international Chinese proficiency tests, the teaching efficiency and scale of 23 teaching sites have been further improved. Significant improvements have been made. The passing rate of the HSK test in this academic year was over 98%, and the passing rate of the YCT test was 100%. SZTE CI students participated in the "Chinese Bridge" International Chinese Proficiency Competition and won the championship in Hungary in the middle school competition in 2017 and the seventh in the international finals. In 2018, SZTE CI contestant won the second place in the competition for college students in the Hungarian Division. In addition, the Confucius Institute has also made due contributions to the promotion of Chinese culture and the "Belt and Road" strategy, as well as the exchanges between China and Hungary.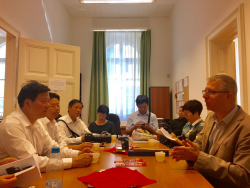 Finally, Li Huijun, who has just led the Confucius Institute China Summer Camp back to Hungary, also briefed the guests on the campers' activities in Beijing and Shanghai related to Chinese and Chinese cultural experiences and investigations. She expressed her sense of mission and pride that is from time to time generated when engaged in the work of promoting Sino-Hungarian exchanges.
Report & Photography: Confucius Institute at the University of Szeged