We could get to know from them, why did Géza get this special Hungarian name , why is he living now in Szeged and why did he start to learn the Hungarian language at all.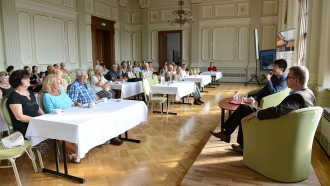 Géza already started to learn our language in China, where he studied at the Beijing Foreign Studies University and his major was Hungarian. He has been living in Szeged for 3 years with his wife and his daughter was born also in Hungary. It seems that he will stay here for a long time. He is happy here in Szeged and he has many good friends, with them he can regularly play football. Unfortunately his friends were busy to come because of a football match, but the ceremony hall in the Rector's Office was fortunately still full.

At the end of the event the audience had chance to ask as many questions as they wanted and we were happy to see that they seized that opportunity. Some people wanted to know if he finds the Hungarian girls attractive, some were interested what kind of local dishes does he like. It turned out that his favourite dish is chicken breast filled with goose liver and he usually drinks rosé spritzer with that meal.