As it was expected a lot of people were interested in this event: the rows were filled up quite fast, so additional chairs were needed to be moved into the assembly hall for the late comers.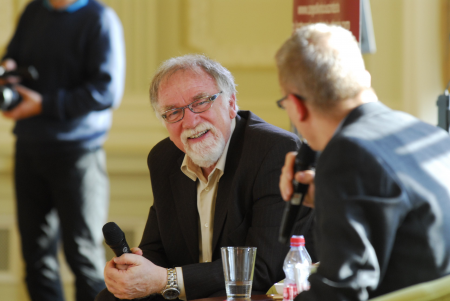 Gallery
As they were drinking delicious jasmine tea István Vágó and Richárd Mohr touched upon many subjects. The most important thing among those was how did the quiz professor got in contact with China. Mr. Vágó knows a lot of languages, although he wanted to broaden his knowledge even further. At first he wanted to learn to speak only, but he had to realize that without also learning Chinese characters, he could not succeed. He especially found it hard that the Chinese language does not have or use an abc, so it is much more hard to read a text in the original, but - he emphasized that - it is also its biggest beauty. The characters are build up from smaller parts, thus making the writing a kind of puzzle in itself which is an excellent mental exercise.
István Vágó was in Peking after the olympic games of 2008 and he was in awe by the world he found there. He absolutely recommended that everyone should go to that fabulous country at least once in a lifetime.
At the end of the event the audience could ask questions and also could take photos with the popular television presenter.